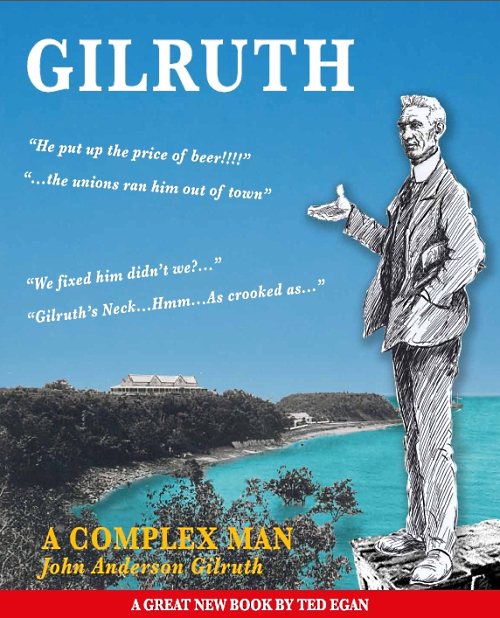 I'm thrilled to announce the publication of my latest book "GILRUTH" – a biography of John Anderson Gilruth (1871-1937)
It is sub-titled: "A Complex Man" and JAG was certainly controversial. He was an esteemed scientist who was appointed as First Commonwealth Administrator of the Northern Territory of Australia in 1912 and served in that capacity until 1919, when he left Darwin on HMAS Encounter after seven tempestuous years, culminating in the "rebellion" of Darwin trade unionists. A Royal Commission followed.
Dr Gilruth was titled His Excellency on appointment, but his critics quickly changed that to His Obstinacy; they regularly complained about his "Gilruth-lessness". He has been treated harshly by historians to date, but I ask for a re-appraisal, on the grounds that in his day there were no resident historians, no archivists, no diary-keepers of note, no eminent letter writers; accordingly, the events of his career have been described principally by one newspaper (NT Times and Gazette), where the bias – and sobriety – of various editors came into play.
Scottish-born, Dr Gilruth went to New Zealand in 1893, for sixteen years as Principal Veterinary Scientist, specialising in bacteriology. New Zealand led the world in veterinary science. He was then headhunted by Melbourne University in 1908 to head their Veterinary Faculty. After an impressive 1911 tour of the Northern Territory, which had been taken over from South Australian Administration by the newly established Federal Government, Gilruth was invited to be the first Commonwealth Administrator.
My book is the end result of ten years of dedicated research and I am very proud of it. It is a beautiful hard cover production, with 400 pages and 100 excellent photographs. Each copy comes in a solid IMC (international mail container). I was assisted by Charles Darwin University and the NT Government. I was able to visit Scotland and received admirable assistance from Gilruth descendants. It is priced at $40.