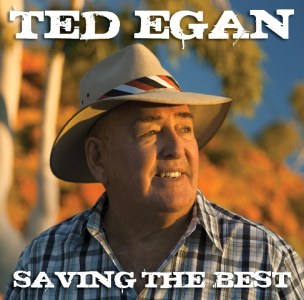 This is to announce my new double album

SAVING THE BEST

.
Launched September 2010, available through me @ A$30.00 (which includes postage and package.) It is produced by ABC Music, but they have kindly given me the opportunity to sell it myself.

The album was produced by John Kane and Mark Walmsley and I am thrilled with it. Dare I say, I have never sung better.

As a Double Album it has two discs as follows:

DISC ONE; QUEENSLAND OPERA

This is in the Country/Folk genre. Many years ago Country Music was affectionately known as Queensland Opera. I have written a song with that title, along with 18 other songs. I have paid tribute to my favourite Australian songwriters with one each of their songs:
John Williamson's Cootamundra Wattle, Eric Bogle's It's As If He Knows, Norma O'Hara Murphy's Colonial Ladies, Kelly Dixon of Leave Him In The Longyard fame, has written a song (Top Rail Hero) especially for this, for what will be my last album -

SAVING THE BEST

(TILL LAST) Arguably, saving my best for your enjoyment.

DISC TWO; THE LAUGHING GAME

This album of 20 songs is for the kids (and their parents, if they don't frighten easily.) Many years ago I produced a children's album, The Urapunga Frog. Thirty years later it is still a popular seller. So it's time for another. The title song, The Laughing Game, is a hoot, done with the mighty kids from Killara School, who put their own stamp on my song. ABC Music asked me to sing the songs of my own (very happy) childhood, along with other songs that I thought would appeal to Aussie kids. I love the end resultl

I am required to sell this double album

SAVING THE BEST

(39 songs on two discs) at the same price (A$30.00 incl pack and post) set by the ABC, in fairness to them.

Click here to buy.